When updating your bathroom, one of the biggest things to consider is the floor covering. It is a double-edged sword to have plenty of options available. On the one hand, you can choose the most suitable flooring for your bathroom. On the other hand, it can get extremely confusing, especially if you are a beginner in any home remodelling project.
Your best bet, however, is a 100% waterproof type of floor covering that is also durable and does not require heavy maintenance. It is not always easy to arrive at your ultimate choice, which is why we have compiled the top options you can select from for your bathroom.
Here are the most common floor coverings that you can choose from, along with their advantages and disadvantages:
1. Vinyl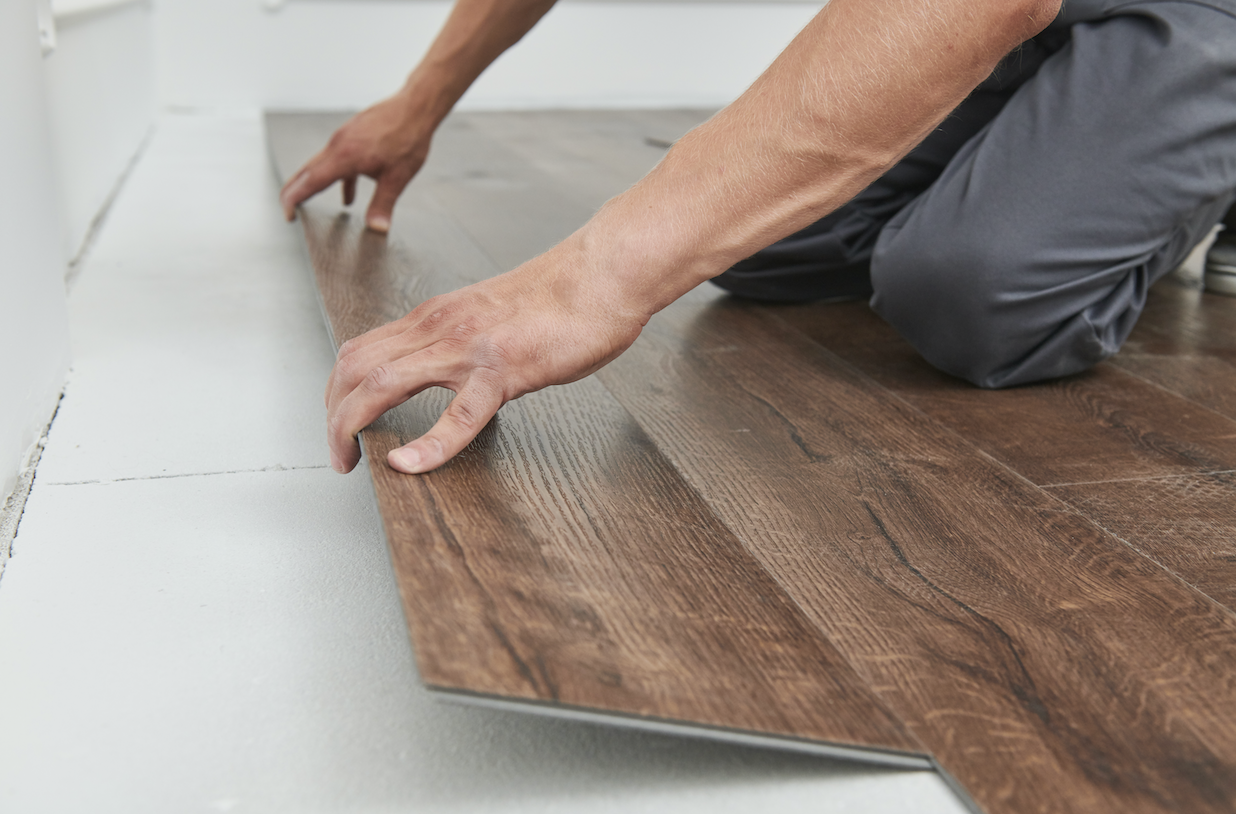 One of the best things about vinyl floors is that they are not only water-resistant but waterproof as well. This type of floor covering can have a variety of styles. The most popular ones are wood and stone plastic composites.
Aside from styles, there are also vinyl flooring types, which are:
Vinyl Plank, which uses long planks that make the whole covering look like real wood
Vinyl Tile, which mimics stone tiles and can come in different textures
Vinyl gives you a wood-like appearance, which can make your bathroom unique. After all, no one would install real wood in this part of the house.
Other reasons why you may want to opt for this type of flooring for your bathroom are:
Feels warmer on bare feet compared to tiles
100% waterproof
Does not lose structural integrity over time
Durable with a top layer that easily defends the floor from scratches and stains
Trendy, especially when printed
Easy to clean
Quick installation
No need to remove existing flooring since it can be installed over it
Affordable, particularly stone plastic composite
With all these benefits, you may think that vinyl is the perfect flooring option for your bathroom.
Before you go ahead and decide, the material also has some disadvantages for you to consider:
Wood-plastic composite can be quite expensive
Resale value is often poor, which is not good news for those who want to sell their home in the future
If the subfloor or underlayment has bumps and gaps, they can appear on the surface of the vinyl covering
Because of the popularity of vinyl flooring, many homeowners opt to install it on their own
2. Ceramic and Porcelain Tiles
For many people, when you mention "bathroom floor," they immediately see tile flooring. It has been the best option for years, mainly because of its reliability and versatility. Tiles can last for decades with proper care. Plus, there are a variety of styles, colours, and shapes to select from.
Just like vinyl, you can have a natural wood texture – even stone, if it is the look you are going for. There is so much versatility in tiles that you can even have a turquoise tile in a hexagonal shape. You can already tell that this type of flooring is for those who want to express the inner interior designer in them. Tiles are completely customisable and can either be ceramic or porcelain.
But what is the difference between the two?
Ceramic is a general tile family in which porcelain is a part of. They are mostly similar, but there is one distinct quality: absorption rate of water. Porcelain tiles have about 0.5% water absorption rate at the most. Therefore, if you have a half bathroom or one where there are no bathing facilities, you can opt for ceramic instead.
Regardless if you have ceramic or porcelain, you can enjoy the following benefits with this type of flooring:
Combination of trendy and classic
Durable and can last for years without peeling up or wearing down
Easy cleaning and maintenance using a broom and mop
Wide range of style
Good resale value
Efficient even under radiant heating
Just like vinyl, tiles also have cons, including:
Tiles can be uncomfortable, especially when you walk barefoot
Tiles are not friendly to your joints. Therefore, it is not advisable to stand on tile flooring for an extended period, especially if you have joint problems.
If you are a DIYer, you may have to sit this flooring type out since you need to hire a professional to do the installation for you.
You should also be aware that tiles are quite slippery, so they are not often suitable for those with children. Nevertheless, tiles can be cut into smaller portions, so adding grout lines can make the surface non-skid.
3. Natural Stone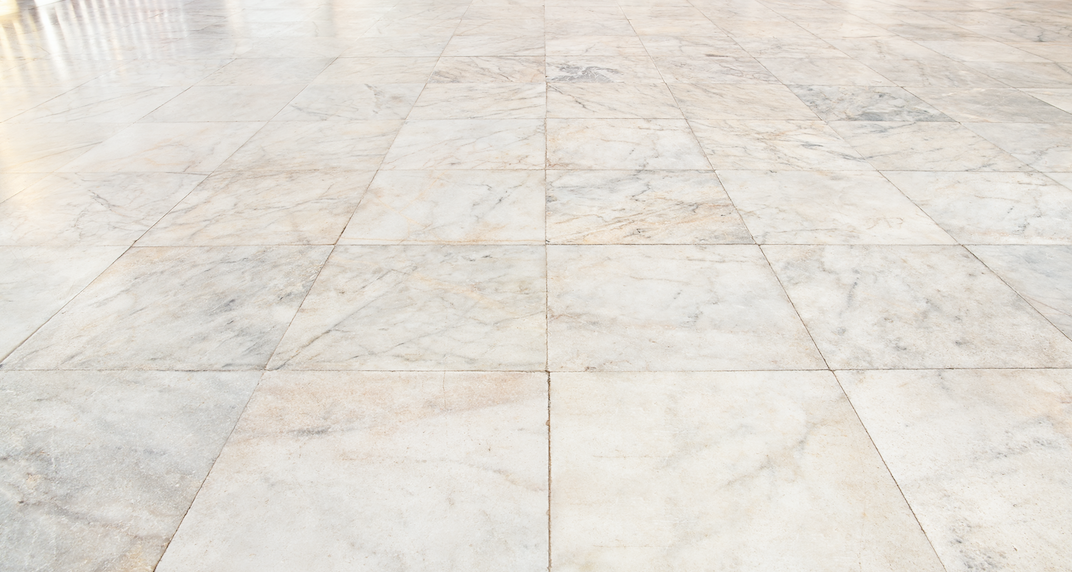 Another excellent option for bathroom flooring is natural stone. The natural-occurring patterns make stone floors incredibly popular because of the unparalleled beauty. Plus, you can select any colour and texture that you want. There are also a variety of stone flooring options available, such as marble, granite, and limestone.
Compared to vinyl and tiles, however, these stone flooring materials are not entirely water-resistant. They can have a small moisture issue, but still workable for many households. When you use natural stone for your bathroom, you will have a hard and durable floor covering that is also aesthetically pleasing.
Here are more reasons why natural stone is a good choice for your bathroom floor:
Purely luxurious, since it is for those who do not mind splurging on flooring
Looks incredibly natural, no matter what material you choose, including granite travertine, and marble
Offers uniqueness because not many homes would have natural stone
High resale value for those interested in selling their homes in a few years
Hard to beat when it comes to durability
Of course, it still comes with some cons, such as:
Natural stone is costly, making it an exclusive choice to those who have the budget for such a sophisticated flooring choice
You cannot install natural stone on your own. You will need a professional to do all the steps for you.
Although natural stone is durable and can last for several years, it is hard to maintain. You are required to seal and resurface the floor regularly. This way, your investment will pay off.
The floor can be slippery, which makes it unideal for households with children.
Lastly, natural stone, just like any stone, is cold. If you are concerned with this trait, you can solve it by installing radiant heating. Also, the slip factor can be fixed if you choose a textured surface over a smooth one. Sandblasting is often performed to achieve texture. However, you can also use slate and other naturally-textured stone.
4. Laminate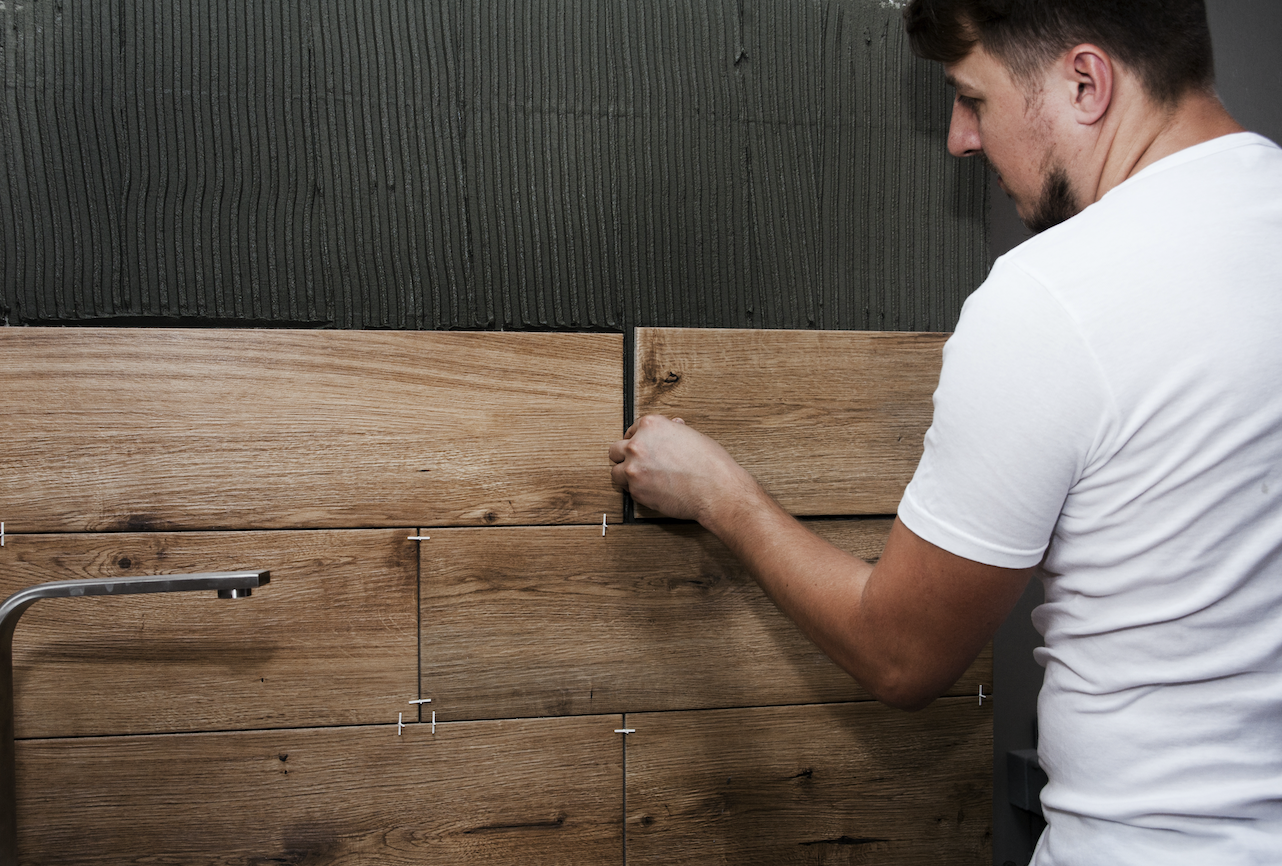 Synthetic laminate flooring is not new at all. In fact, it has been around since the 70s. However, many homes did not like it and would rather skip this option. Such type of floor covering had a problem performing efficiently in an area with a lot of moisture.
Thankfully, technological advancements made laminate flooring water-resistant. However, it is still essential to be careful if you plan to install this type of flooring in your bathroom. Before the installation, you should ensure the product is indeed water-resistant. You can have a professional do it for you as well. This way, you do not have to be worried about the steps and precautions you have to take.
For bathrooms, laminate should have high-density fibreboard (HDF) core. It is the portion or layer of the laminate that possesses water-resistant features or materials, including wax. HDF core will prevent the flooring from soaking up water until it is finally absorbed.
But how do you know that the laminate flooring you intend to buy is genuinely water-resistant? The best thing that you can do is to confirm such a specification with the manufacturer. Talk to a customer representative and enquire about the product. Ask about the core material and make sure it is high-density and of great quality.
The installation process is not entirely complicated. You can even do it without the help of a professional, as long as you had prior experience for this job. When you install, you should apply caulk or glue right into the seams of the interlocking planks. This technique will allow you to seal any potential cracks where water could escape.
Water damage may still be possible even if you have HDF core and you already applied glue into the seams. To reduce this possibility, add an underlayment, along with a vapour barrier, under the laminate. It enables you to glue down the flooring and ensure there is no air between the surface and boundaries. Therefore, you increase protection and stop any subfloor moisture.
With those crucial things out of the way, you may want to know what you can get out of laminate flooring for your bathroom.
Here are the pros:
Water resistance
Easy to install without the help of an expert
Great for DIYers of all levels, including beginners
Looks like stone and tile
Can have an embossed texture
Super affordable
You may be wondering if it has cons. Unfortunately, laminate also has a few drawbacks for bathroom use:
You can never repair laminate flooring once it is destroyed by water
Laminate can collect static electricity.
It is waterproof but not completely. It does work by handling moisture on its surface, but the bottom may not be well-protected.
If water comes up from the subfloor, you can have problems with laminate flooring.
Unlike vinyl, laminate is not anti-static, which can give you a shock. Summer can be humid, and winter can be dry in your area. In that case, static electricity can start affecting your bathroom if you have laminate flooring. One solution is to increase the humidity in the bathroom or your entire house. Turn off the furnace when you do not use it and set up a humidifier.
5. Hybrid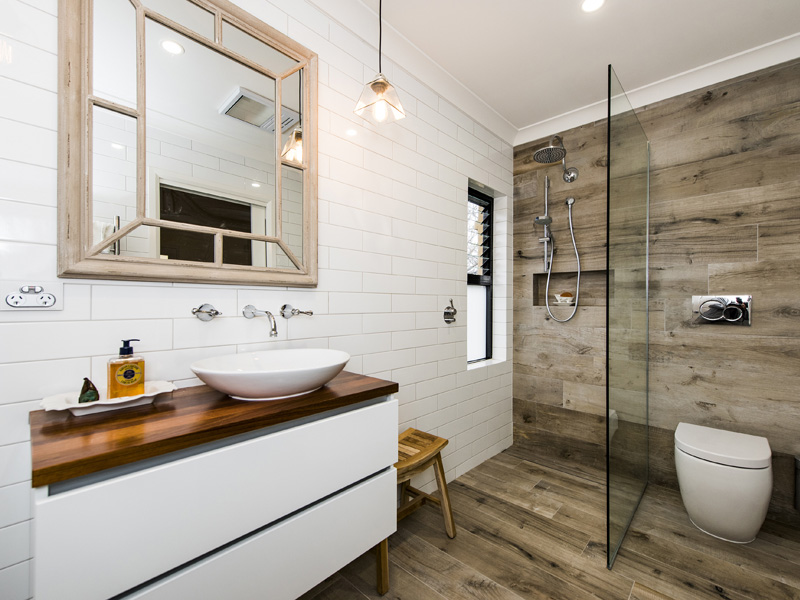 The biggest reason why hybrid flooring is a top option for bathrooms is that it is waterproof. It is the first-ever floorboard proven to resist the effects of water on the bathroom floor. Plus, it is scratch-resistant. Think of it as the perfect mix of vinyl plank and laminate where it is both water-resistant and durable.
Hybrid flooring can be installed over your existing tiles, which reduces the service cost if you have it professionally installed for you.
Hybrid flooring is made of a few distinct layers, including:
PUR and PVC treatment, which makes your floorboard resistant against scuffs and stains
Embossed layer, which is the second layer to replicate the look and feel of real hardwood flooring
PVC and limestone core for waterproofing and heat resistance
High-density rubber acoustic underlay for a more comfortable surface for walking barefoot
So, is hybrid flooring suitable for your bathroom floor? Here are its pros:
Stain and scuff resistant
High impact resistance
Easy to clean
Attractive and can look and feel like authentic hardwood
Waterproof and water-resistant
Heat resistant
Stable even in extreme temperatures
Reduced echoes and impacts when walking
Extremely affordable
Durable
Although it has so many benefits, hybrid flooring is can be imperfect with the following flaws:

Hybrid floors may be affordable but still more expensive than some other types, including laminate.
It is scratch-proof but still requires you to pay attention to the causes and sources of abrasions. Be sure to perform some measures in reducing the occurrence of scuffs.
If exposed to direct sunlight regularly, its colour may fade.
It should be mentioned that hybrid flooring is the only waterproof flooring option that you can install using the click-lock system. It means it does not require glue, which makes the installation more affordable than others.
Avoid These Flooring Options for Your Bathroom
The floors above are designed to be waterproof and hardwearing. Therefore, they are best for your bathroom, which is one of the most used rooms in the house. However, some flooring options do not thrive in the bathroom. In this case, you should never place them in such a space:
Hardwood
This type of flooring is undeniably attractive. It may be what you use in your living room or even your bedrooms. However, it is a huge no-no to have it installed in the bathroom. Some manufacturers may claim that their product is waterproof, which may be valid to a certain extent.
In reality, hardwood flooring can never be entirely waterproof. If you have a case of standing water and your bathroom flooring is hardwood, you need to clean it up right away. Letting water be absorbed will lead to wood damage.
You can already tell that this option is difficult to maintain, unlike if you have it installed in your living area. Using hardwood flooring in bathrooms is not entirely prohibited. However, you need to be ready with the demanding maintenance process where you use specialised cleaners for your wood flooring.
Additionally, it may require finishing coats, refinishing, and sanding in some cases.
Linoleum
Compared to other types of flooring, linoleum has a significant drawback of scratching easily. The tiny tears created can quickly trap dirt and dust. Unless you are willing to clean up that mess every day, you may want to skip linoleum for your bathroom floor.
Another massive issue with linoleum is that it absorbs water. Since your bathroom is prone to water splashes and such, it can lead to a lot of headaches for maintenance. Using this flooring type will only result in changing it to a more convenient and durable option.
Bathrooms are naturally humid. Linoleum may contribute to the beauty of this particular space. However, it can curl up at the edges, which is not a sight to behold.
Carpets
Carpets have come a long way since they were introduced a long time ago. It is not shocking to find waterproof mats, which are made with RX2, a technology that can repel liquid. Waterproof carpeting has RX2 coated in each fibre. This way, it is waterproof and stain-proof.
However, not everyone can afford a waterproof carpet. It is also not as prominent in many places, unlike a standard mat. Unfortunately, regular carpets will simply absorb water and spillage. They will only create a wet surface that no one would like to step on.
Maintenance is overwhelming since you may not even have the time to keep cleaning the carpet regularly. Carpets are also known to trap mould and mildew. Therefore, you need to wash them at least once every week to avoid these microorganisms from piling up in the fibres.
Tips on How to Pick the Most Suitable Flooring Type for Your Bathroom
All the flooring types mentioned have their pros and cons. Consider your bathroom, preferences in style and function, and your budget. You may also want to determine how much time you believe you can allocate for cleaning and maintenance.
Whichever your choice may be, it should be waterproof. Also, it is best to choose a flooring type that can withstand high traffic. Your home may not be a commercial space, but a bathroom will always be one of the most utilised parts of the house.
Aside from durability, you should also opt for non-slip surfaces, especially if you have kids or older people.