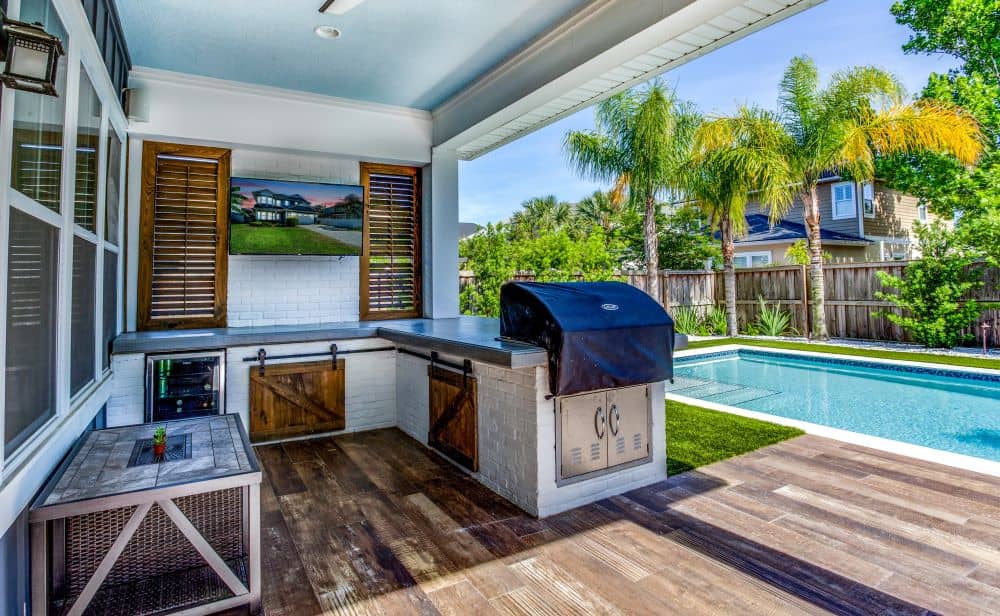 If you love cooking and spending time outdoors, why not bring these two together with an outdoor kitchen? Many people will agree that an outdoor kitchen is the peak of entertaining luxury. That's why it is becoming more and more popular in Perth, where the warm climate allows outdoor kitchen use all year round.
Adding an outdoor kitchen to your home is a fantastic investment. Not only does it let you take the fun of cooking outdoors, but it also makes entertaining guests to a whole new level. You might even notice a drop in your electric bill if you avoid your indoor kitchen more, especially in the hot summer months. The extra heat in your home forces your air conditioner to work harder.
Most importantly, you will likely find cooking and preparing meals outdoors more enjoyable than the traditional way. Let's also not forget that outdoor kitchens add significant value to your home.
But building an outdoor kitchen can go from exciting to daunting real quick. Too often, it is difficult to figure out where to start. This blog will help you out! Here are six useful tips to keep in mind when designing and building your dream outdoor kitchen:
1. Cover All Your Bases
The planning stage can take a lot of time, especially with outdoor kitchens. Essentially, you're building a kitchen from scratch. There are so many things to consider, including your backyard. So, you should start with how you use your garden. Where do you prefer to have the seating area, and how will your alfresco dining experience look? The ideal design is to have the new kitchen near the house, facing the sun.
It's even better if you can keep the outdoor kitchen near the indoor one for your convenience – but not too close because of the smoke.
Another thing to include in the design stage is to determine how you plan to use the kitchen. Do you wish to cook full-scale meals outdoors, or will you still do some work indoors? Depending on the size of your kitchen, you may be able to add a roof or pergola. You will also have to decide on the appliances that you will use outdoors. Some of the top options are grills, wood-fired pizza ovens, icemakers, and warming stations.

2. Don't Overlook Other Details
Apart from the basics mentioned above, you will probably want to have connections to hot water and gas for your outdoor kitchen. Sewer lines may also be necessary. Make sure you know about the costs ahead since installation can be particularly expensive. Storage plan, as well. Small details can get ignored, which can impact your kitchen's functionality. So, consider aspects like electrical outlets for appliances or lighting, storage drawers, cupboards, and overhead lighting if you wish to prepare food or drinks at night.
As you plan your kitchen's look and design, don't forget about the materials. Some of the most popular options are brick, stone, and concrete, which are all durable choices. Incorporating wood is also great, especially for its aesthetic. Poured concrete for furniture and benchtops is excellent if you wish to restrict your budget. If not, stone is a good alternative.
3. Layout Planning is the Secret to Success
The outdoor kitchen should be designed for good food and stress-free prepping. This is easily achievable if you get the layout spot on. The key is to have separate areas, which can be divided into the following:
Hot Zone, which is where all the cooking activities will take place. It can consist of the smoker, wood-fired pizza oven, gas cooker, and BBQ.
Cool Zone, which is for the drink coolers and fridges
Dry Zone for preparing food
Wet Zone for your dishwasher, sink, as well as making drinks
You can add more zones or even eliminate one or two if you wish. It all depends on the available space and how you plan to use your kitchen.

4. Be Ready with the Costs
Renovating your property is not cheap. The costs of upgrading to an outdoor kitchen can vary dramatically depending on several factors. You can save some money if you opt for a basic charcoal grill, tables, and benchtop. You'll find reasonable prices for the storage, cupboard, and preparation area, but some stylish options can be quite expensive.
Modular kitchens may be attractive, but they can set you back around $12,000 and up. Don't forget the installation costs, which differ greatly based on the installer and your location.
Hiring a professional to design and build your outdoor kitchen is often the best option. You can save more money because you will work with an experienced team that can provide you with good recommendations. From the materials to the layout of your outdoor kitchen, you'll have more savings than when you rely on several different people.
An outdoor kitchen is even better with alfresco dining. You'll surely be able to maximise your outdoor space. There are also several design ideas that you can select from when you work with a renovation pro. Everything will be considered, from your available outdoor space to your budget and the overall functionality of your outdoor kitchen.
5. Create Atmosphere
You probably think that cooking outside the house means you don't need lighting. But that's not true. Lighting is crucial and will serve two primary purposes. First, you see better when you're cooking, specifically during nighttime when most parties take place. Second, you're creating an atmosphere as you enjoy your meal with your family, friends, or special someone.
Increasing visibility is of paramount importance. We recommend adding spotlights above the food prep areas and, of course, in the cooking zone to cover the basic requirements. But if you wish to up the experience, LED lights, lanterns, and wall lights, along with benchtop and ground lights, will be more than satisfying. The combined lighting effects will generate a welcoming and calming feel. Evenings can get chilly, so you may want to consider installing an electric heater.

6. Understand the Commitment
An outdoor kitchen, compared to an indoor kitchen, will require heavy maintenance. It's exposed to the elements, after all. Even if you use your indoor kitchen more, surfaces and appliances should be checked regularly. It's important to keep everything covered in case the weather becomes unpredictable.
Homeowners should understand that it takes time and effort in keeping up an outdoor kitchen. Bear this fact in mind before you build or install. It is surely fun to cook food outside the house. You will not have to worry about bumping someone as you prepare meals. However, as enjoyable as it may seem, upkeep is a legitimate concern. A good builder can help you in choosing the most suitable outdoor kitchen and alfresco dining options. And often, going for a simple layout is the best choice.
Planning is the key to keeping construction costs low. By working with a professional renovator, you can make sure every single requirement is covered. Safety considerations like adequate ventilation and gas, water, and electric connections can all be planned out when you have a reliable builder to guide you. Contact Perth Renovations Co to create a stylish yet functional outdoor kitchen in your backyard.