Interior design, believe it or not, is uncomplicated. It does not matter how large or small your budget is, because you can always find a solution to enhance the appearance of your home. We have collected some of the best styling tips right from the pros themselves.

First off, you need to find your style when it comes to interior decorating. The technique here is known as "Style and Error," which is fundamental, especially for beginners.
You will attempt to stylise your home until you discover the right one for you. It does not have to be systematic. It would be better if you make it as random as you can. Nothing is finite and static in interior designing your home.
The Style and Error method will remain throughout your life. In each new property or life phase, you will eventually have to reinvent style ideas. Embrace them and find inspirations in the following tips for your kitchen, bathroom, and living room.
Interior Design For Your Kitchen
Below you will find tips that will make interior designing your kitchen work efficiently:
Proper Spacing and PositioningYou do not have to be a professional interior designer to know that you need to place everything correctly in the space. Consider where and how you use various kitchen items. Then, you can place them conveniently. Here are some examples:

Breakfast cereals and bowls: Place them near the breakfast table. The kitchen island will also work great.
Plate storage: Have it near the dishwasher as much as possible.
Bin: Position near the dishwasher as well.
Dishwasher: Place it near the sink.
Storage for bread: Place near the toaster.

You may also want to install a prep sink on your kitchen island. This way, you do not need to walk from the main kitchen while holding items that you need to wash. It also helps make things easier when other people are working in the kitchen with you.

GapsMany people may not think about it, but the cabinetry should have enough space from other things, including your kitchen island. As much as possible, have a path that is about one metre wide. For cooking zones, you may need at least 1.25 metres wide.
Traffic DirectionPeople will come and visit you in the kitchen while you're preparing meals. You do not want them to get in the way when you are busy. Usually, kitchens lead to the living room or even the garden. Again, spacing is vital, so everyone can freely walk in the kitchen without bumping each other. Think about safety as well, because if children pass by, they should not catch panhandles.
ColoursCabinetry makes your kitchen look special, but the right colours make them even more interesting. You can never go wrong when you consider the amount of natural light that the kitchen receives.For a kitchen that overlooks the garden and extends to the dining and living areas, light-coloured cabinetry is the best choice. It works well when the units are placed in the darker part of the room. Meanwhile, if your kitchen is light-filled, go for darker units to make the kitchen look comfier.You may also want to pick a grainy wood finish to introduce texture to the room. Bold colours are also a great choice to add personality to your kitchen, however, always do it with caution, as you may love the bold colours now, but you hate it in the future. Also, it may not be wise if you plan to sell your home with bright hues.
FinishAside from the colour, you should also pick the right finish for the units. You have different options, including high-gloss, matte, and mid-sheen among others. In the end, what matters is your preference. You can also consider the current style of your home. Contemporary homes fit with high-gloss units and other styles.However, if you have a traditional home, you may want to stay away from anything glossy. If high-gloss is your preference, it is better to incorporate natural wood in your kitchen scheme.
OthersHere are more tips to achieve an efficient kitchen design:

Benchtops: Find the right colour and finish. Again, contemporary kitchens work well with high-gloss options. Therefore, wood and others with warm texture will complement the look.
Ceiling: You can opt for a floor-to-ceiling design for the cabinets to get more storage space. If not, there should be enough space from the ceiling to the cabinets, so you can clean them easily.
Appliances: Some appliances are not too good-looking. You can have them stashed away when you do not need to use them.
Height: While you may want to make use of the space efficiently, it is not a good idea to stack everything too high.

You spend a lot of time in your kitchen, so it makes sense to turn this part of your house into a space that you will enjoy. It requires a good layout, making sure the space flows effortlessly. You have to consider the position of the appliances and the surfaces where you usually work. Convenience is the keyword when it comes to kitchen design.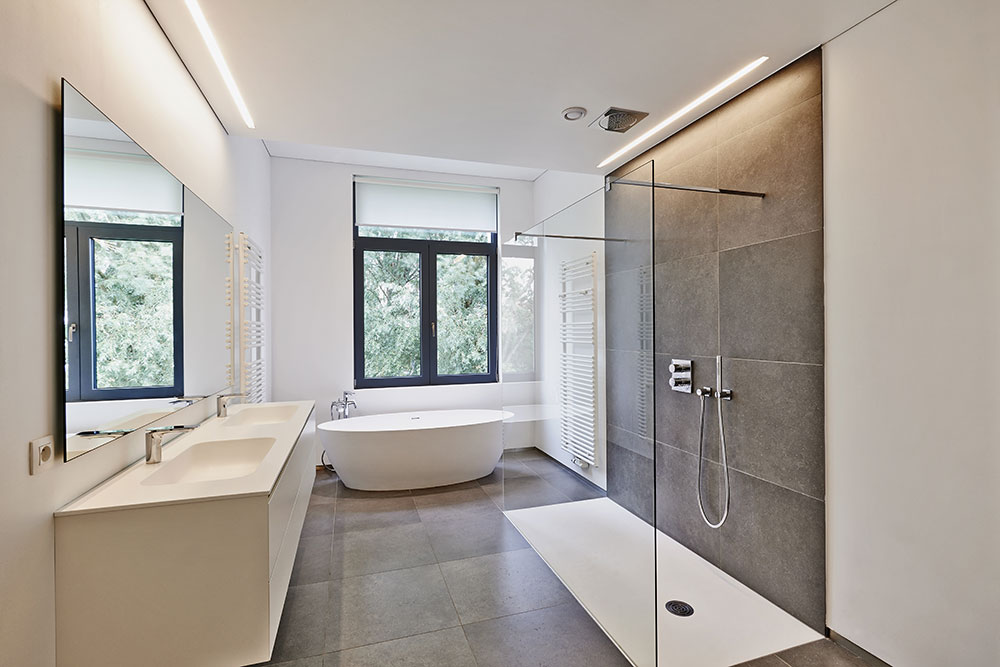 For Your Bathroom
You use your bathroom possibly more than other rooms in the house (except your living room). It is only right that you pay attention to its design. Bathrooms are no longer about having plain white tiles. You can now inject patterns and colours to make this part of the house more interesting.
SpaceYou can incorporate freestanding baths into your bathroom. It can even create a luxury hotel vibe right in your home. Commonly, bathrooms are not treated as a separate room. However, you will be surprised with the results if you see your bathroom just like your living area.
ShelvingClear the clutter to turn your bathroom into a zone for relaxation. You can choose floating shelves or even a freestanding unit. Some homes even have bespoke boxes while others opt to mirror their existing cabinetry.
ArtYou may not have thought about adding artwork in your bathroom. However, if you treat it just like any other room in the house, you will find several opportunities to include decorative elements. You can select pieces that showcase your personality.Some choices include:

Porcelain pieces for holding jewellery and bath items for your vanity
Decorative hooks for towels and robes
Hanging plants
Embellished walls with artwork

Proper ventilation is required, although your framed artwork should not be an issue. Nevertheless, you should still invest in a good exhaust system.

TapsWall-mounted taps are a great space-saver. You do not need a huge vanity and a big sink for this type of tap. Therefore, you can have a wider walkway for you to walk past or stand comfortably as you brush your teeth.
OthersFor more tips, here are additional bathroom interior design ideas:

Mirrors: You can choose either floor-to-ceiling or even wall-to-wall. Mirrors will create the impression of a much bigger space.
Colours: While you can use colours for your bathroom, it does not mean you should abuse it. White and neutral colours are still more preferred, especially if you have a small room.
Lighting: Opt for flush-mounted lights, which not only brighten up the area but also generate the illusion of more space.
Windows are also a great option to let in natural light. However, you can use shutters on top of frosted glass to gain privacy.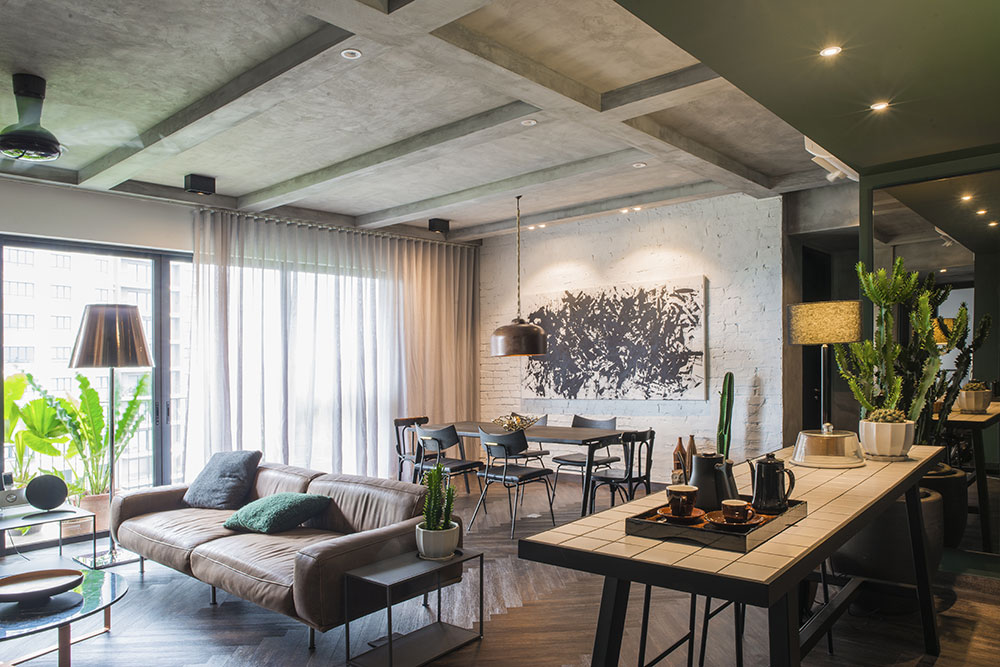 For the Living Room
The living room is where you welcome visitors or get together with family members. You can create a stylish and functional living room with the following design ideas:
SofasIf you feel you are lost in choices, you can start with a sofa. A statement sofa, which can be plump and curvy, has become increasingly popular. It also helps modernise your space. For minor design updates, you can add velvet cushions with an earthy hue. While the look of the sofa is important, always choose based on comfort. This way, you will not regret your choice even when new styles arrive.
TextureFor a modern appearance, you should go for texture. Natural materials, including cane and rattan for furniture pieces, make a contemporary living area more appealing than ever. You can also incorporate blends of wool, silk, and cotton for your rugs.
ColourOnce again, colour is included in your design options. Play with different colours, including a warm and rich palette with different shades of blue and deep greens. Sage, terracotta, and timber are also trendy right now.
MaterialsYou can mix and materials, so you can gain an eclectic feel to the room. The good thing about the update is that it will never be time-consuming or even expensive. An example is to add a new material like matte black marble to your coffee table.
A well-decorated home, from the kitchen to the bathroom to the living area, is everyone's dream. Try to replicate the ideas listed above to have a place that you will surely be proud of. If you feel you want to make your interior design ideas a reality, why not get in touch with the team at Perth Renovations Co.