Step-By-Step Bathroom Renovation Guide and Timeline
From a weekend to six months, you've likely heard several opinions on how long it takes to complete a bathroom renovation. The good news is we here at Perth Renovation Co we have found the average construction period of our bathroom renovations to come in at the low end of the scale, at just about a week to be exact.

That being said, to be prudent with your planning and safe rather than sorry, you should expect your bathroom renovation to take anywhere from two weeks to two months from the planning stage to the wrapping up of loose ends.
From pulling permits to installing skylights and rerouting plumbing, there are several factors responsible for the final completion time of a bathroom renovation. We break down the process step by step so you know what to expect.
Close on the Property
While many people who undergo bathroom renovations already own their home, a number of our clients are new home buyers who want the bathroom of their dreams before they unpack. If this is the case, you'll need to close on your property before receiving the keys and getting to work, which typically takes one to three months.
Meet with Contractors and Receive Bids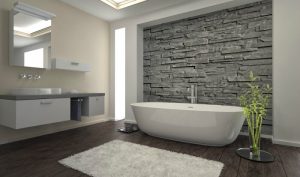 When you're ready to begin the renovation process, it's time to narrow down your list of contractors, schedule site visits, and receive bids. By meeting with potential contractors onsite, they'll be able to see the space, understand the scope of the project, and provide you with a more accurate timeline and estimate. Generally, it takes most homeowners one to two weeks to complete this initial process.
Select a Contractor
After receiving several bids, it's time to compare them and choose the right contractor. When comparing bids, be on the lookout for labour only bids as these only cover the cost of labour and not the materials involved, leaving less peace of mind and more room for budgeting concerns. Even if you call certain contractors to ask follow-up questions, this should take no longer than a day.
Sign the Contract
Once you've chosen a contractor, he or she will provide you with a contract to review and sign. The contract should describe the work to be done, the costs involved, and an approximate timeline for completion.
Obtain Permits or Approvals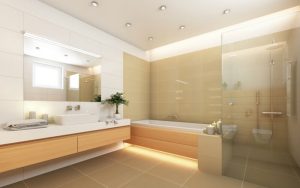 If a renovation calls for the plumbing or electrical to be rerouted, which is a frequent occurrence, permits or approvals may need to be obtained. This is when delays in the timeline often occur.
Experienced contractors like us can often have permits pulled in as little as two weeks, but depending on the contractor you've chosen, your neighborhood or municipality, and the scope of your project, the process can take upwards of three months.
Source the Materials
Whether you source the materials yourself or give the responsibility to your contractor, be aware that certain materials, such as a rare granite or one-of-a-kind sink, can have longer lead times than others. That being said, for most bathroom renovations, the sourcing of materials is usually accomplished in one to three weeks.
Demolition, Plumbing, and Electrical
With any necessary permits or approvals in place, it time to demo the space down to the studs to provide a fresh canvas for new materials and access to the plumbing and electrical. Demolition normally takes half a day, while rerouting bathroom plumbing and electrical lines can usually be done in the same amount of time, or a full day at most.
Install the Floor Tiles
When it's time for installation, it's always best to start with the floor tiles. Whether you choose Carrera marble or ceramic tiles, most experienced contractors will have them installed throughout the space in under a day.
Complete the Installation
With the flooring taken care of, the vanity, sink, tub, toilet, fixtures, and shelving can be installed. Then, the tub and shower tile can be installed along with the lighting and hardware. From top to bottom, the installation and construction process usually takes two to three days for an experienced crew like the pros at Perth Renovations Co.
Clean Up and Inspect the Space
Most contractors will leave a project in "broom swept" condition, so it may be worth hiring a construction cleanup specialist to ensure everything is detailed and ready to enjoy. However, before you turn on the steam shower or fill up the tub, inspect the space with the contractor to make sure it's exactly to your liking.
It's as simple as that.
With the right contractor on your side, you can be enjoying the bathroom of your dreams in just a few weeks.