Your Kitchen Sets The Tone For The Whole Home
For busy families, frequent hosts, or anyone that loves to cook, the kitchen is a heavily used area of the home. If you have contemplated remodelling your kitchen, you may be wondering "what are the top kitchen trends I can expect in 2019"?

To give you some fresh ideas for bringing your kitchen remodel ideas to life, we have compiled the top kitchen decor trends expected this year. Read on for everything you need to know about reviving your kitchen with ease and confidence.
Quartz Bench Tops – The Reign Continues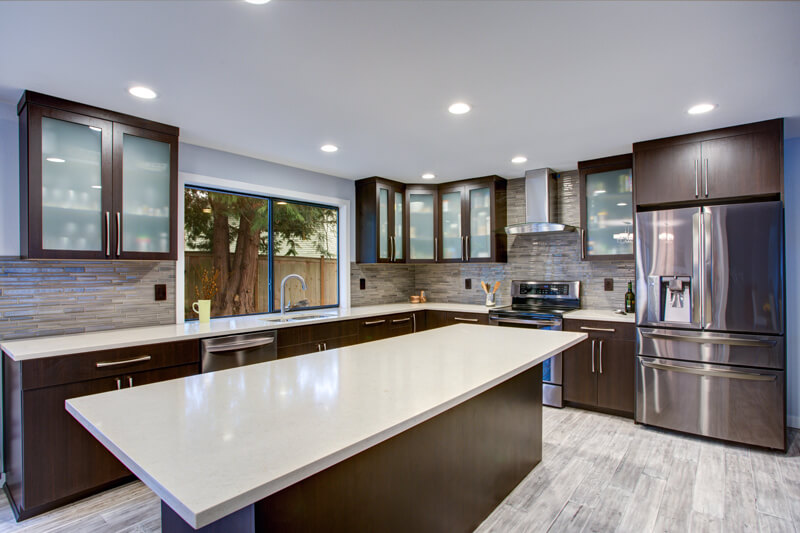 Though a wide range of bench tops have been popular over the years, quartz finishes seem to have no end in sight to their popularity. The material remains frequently requested, and it is no mystery why. Aside from the timeless look it offers, quartz is durable and handles excessive heat well.
Explore a Richer, Moodier Tone
Although white kitchens do offer a timeless appeal, they are harder to keep clean and do not provide the rich, intoxicating look that some alternatives boast. Try an unexpected, warmer colour to create an alluring, nuanced look.
Consider 2019's colour of the year, night watch, or even more vibrant tones to add an elevated sense of energy or evoke a particular emotion.
Go Matte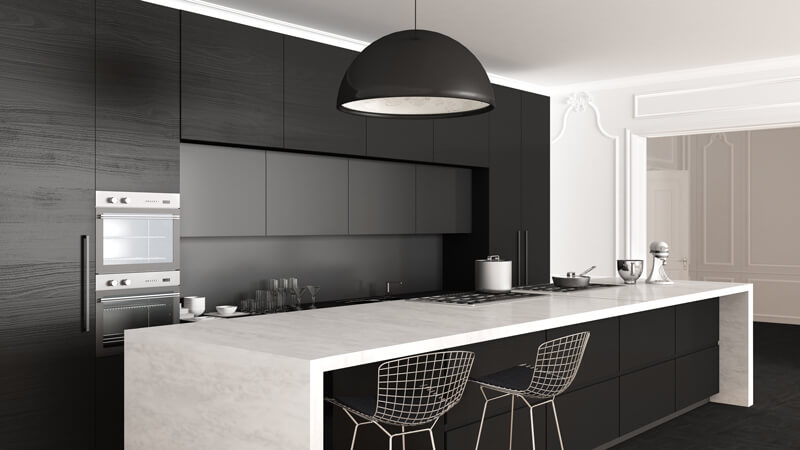 In addition to being easy to clean, the matte cabinetry and appliances popping up in showrooms also offer several advantages regarding appearance. Matte finishes offer a timeless allure and seem likely to be popular throughout 2019 and years to come.
Spanish and Moroccan Tiles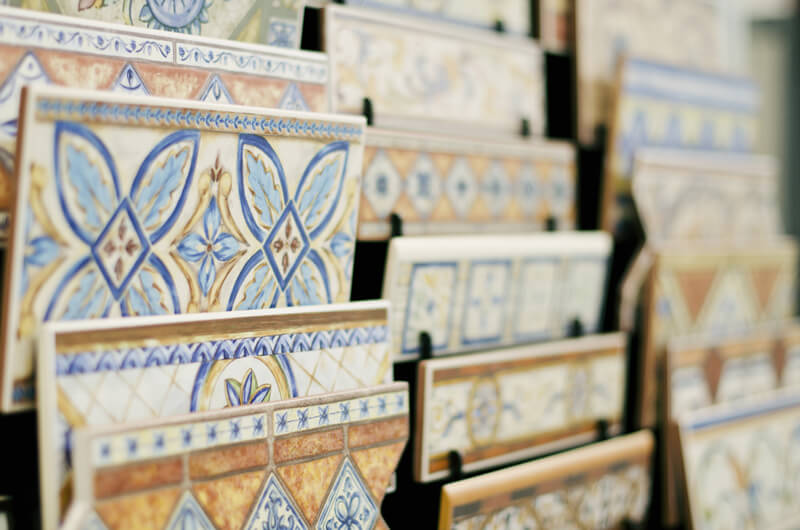 Are you looking to add some flair to your kitchen? Moroccan and Spanish inspired tiles offer an easy way to add exotic notes to your kitchen decor. Visually, they offer a more substantial visual impactthan the popular (albeit tired) subway tile trend.
Mix and Match
Don't be afraid to go bold and unexpected when it comes to juxtapositions from cabinets to flooring. A creative, personalised mix can fill your kitchen with a one-of-a-kind, memorable look. Explore interesting, expressive furniture, experiment with patterns, use different textures, and add a sense of playfulness to liven up your kitchen space.
Vibrant Stoves and Hoods
What is a simple way to make your kitchen unique? Take a look at your stove! Although ranges and hoods often require a significant investment, surprising shades (ranging from primary hues to calming pastels) offer a creative way to distinguish your kitchen.
Concrete Finishes
In line with the recent push for minimalism, concrete countertops, floors, and backsplashes are growing in popularity. Concrete finishes offer a host of benefits:
Budget-friendly
Lends an industrial, rugged, modern aesthetic to the space
Timeless look
Durable and mostly unfussy
Customisable (can be stained, textured, embedded, etc.)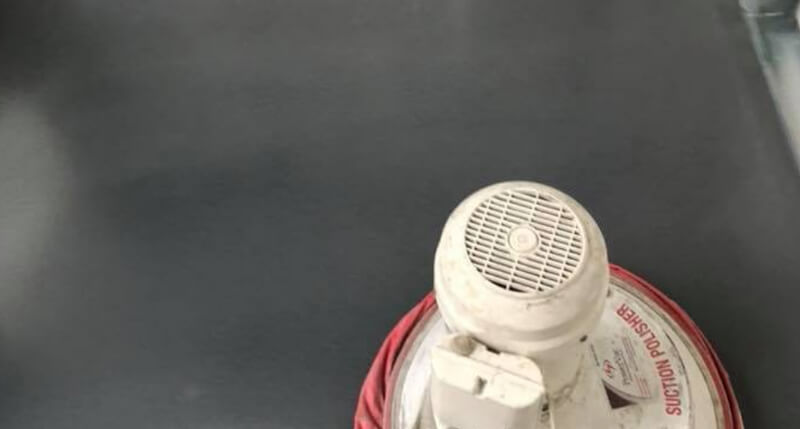 Smart Kitchens
As technology is ingrained further and further into our daily lives, it comes as no surprise that it is also making its way into our kitchens.
2019 will show an increase in remote controlled lighting, smart screen fridge displays, wi-fi connected food scales, and a host of other convenient updates that take advantage of technology and help create "smart kitchens".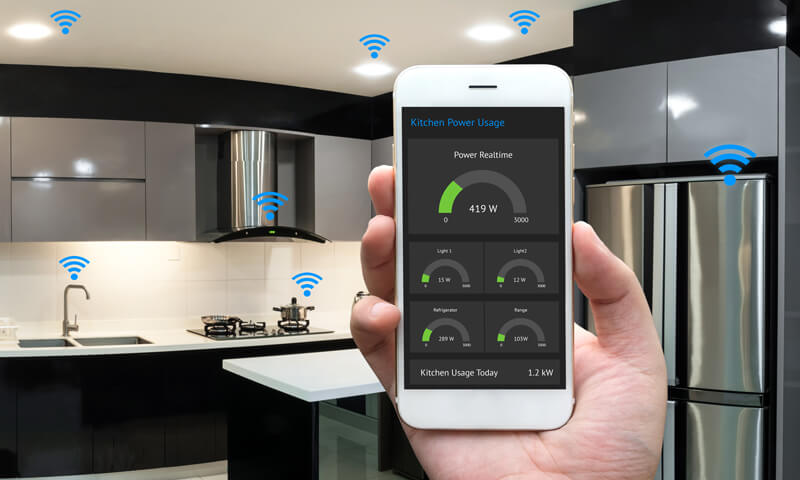 Gold and Black
Timeless and elegant, black appliances and cabinetry paired with copper or gold hardware and accents create a grand aesthetic in any kitchen space.
Glass Shelves
Are you ready for an alternative to bulky wooden shelving? Look no further than glass shelves.
In addition to a modern, minimalistic appearance, glass shelving offers benefits such as: 
Durable and easy to clean and care for
More luxurious in appearance compared to unfinished wooden shelving
Allow light in
Induction Cooking
What form of cooking is safe, aesthetically pleasing, and fast? Induction cooking! Induction burners require less heat and help cooking surfaces remain cool and safe to the touch.
Additionally, these cooktops get rid of the need for an unsightly range hood. This clears the way for an endless array of creative, unique design options. 
Single Level Islands
Compared to multi-level benches, single level islands increase the amount of usable surface area for prep work, do not block light, and maintain an open feel to the entire area.
Deeper Drawers
Utilising drawers that are deeper than average means you will have additional out-of-sight storage while also making cooking more convenient. Deeper drawers also mean clearer bench tops and a more minimalistic feel to the area.
Natural Accents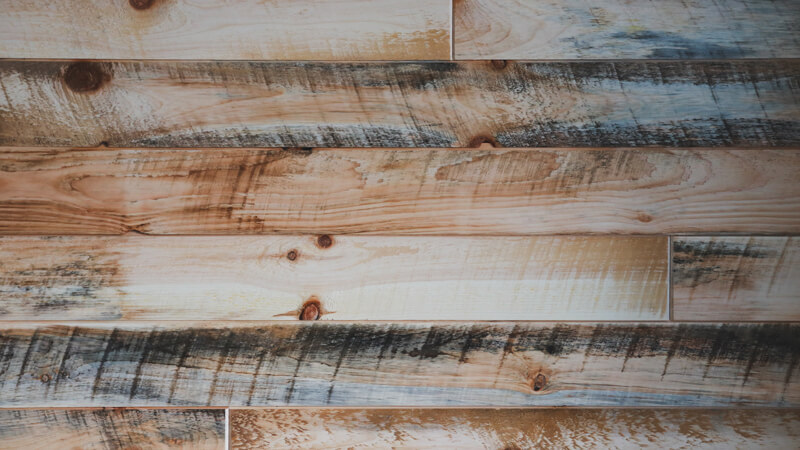 Although your first thought when it comes to 'natural accents' may be farmhouse finishes throughout your kitchen decor, 2019 will actually bring more of abstract, semi-rustic notes. 
Think unfinished, natural accents in small doses with a hint of anindustrial feel. Also remember to bring the outside in with lovely plants, which serve double duty thanks to their ability to their ability to purify the air.
Unique Sinks
2019 will see a decrease in the all-too-common farmhouse sinks of the previous year and an increase in unique sink options. Think intricate designs, stunning ornate fixtures, and unexpected materials.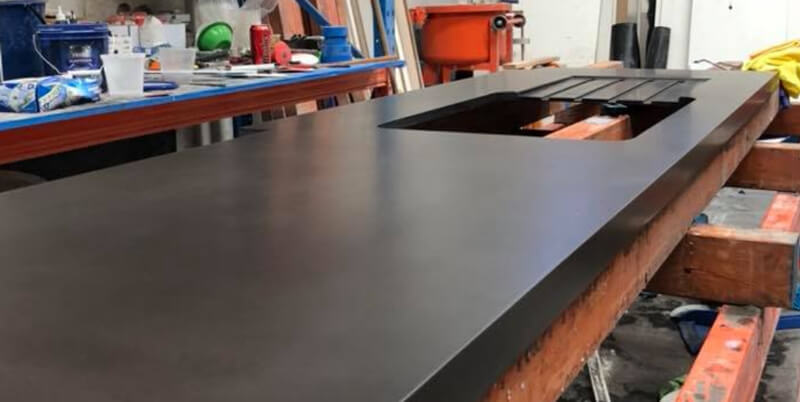 Covered Kitchen Sinks
Speaking of unique sink styles, sliding covered sinks offer a creative way to increase counter and prep space instantly and easily. Sliding covered sinks also offer a sneaky bonus: if company shows up unexpectedly, go ahead and conceal your sink full of dirty dishes by sliding the cover over!
Banquette Seating
In such a commonly used space, customised banquette seating is gaining popularity. Along with offering an excellent way to bring friends and family together, this feature may even boost your home's value.
Mixed Metals and Finishes
Consider combining different metals to create a layered, custom look that is unique to your space. Copper hardware mixed with brass fixtures and touches of silver can create a laid back, elegant statement. For more on how to mix metal finishes view this article.
Statement Flooring
Don't shy away from dynamic flooring. Striking patterns and unique designs can add a visual punch to your decor versus the basic appearance of tile or wood floors.
Go for Colour When It Comes to Grout
In search of an unexpected, easy way to distinguish your kitchen? Consider a unique grout colour your new go-to kitchen trend for 2019. A distinct grout colour is sure to lend your kitchen a graphic kick of personality that won't go unnoticed.
High-Gloss Cabinets
Another one of 2019's most significant kitchen trends? High-gloss cabinets. For a sophisticated, modern, clean aesthetic, high-gloss cabinets are worth considering.
Wooden Countertops
Though not as durable or low-maintenance as concrete or laminate, wooden counters add a certain richness and warmth that is worth the extra hassle.
Pastel Colours
Sure, pastel blues, pinks, and yellows have long been a popular choice for living rooms and bedrooms, but 2019 will see pastel colours making their way into kitchens. To see if this trend is right for you, start small. Consider trying an eggshell blue kettle, a lemon toaster, or a baby pink mixer.
Prepare for the Pod
Perhaps a result of Australia's strict planning laws/design codes, pod-like structures, especially those clad in timber, are rapidly growing in popularity. Whether it is to separate a studio or a backyard room, pods sitting off the main home are likely to be a huge trend in 2019.