Step-By-Step Kitchen Renovation Timeline and Guide
When it comes to kitchen renovations, homeowners have a laundry list of concerns, but time is usually at the top of the list. Sure, there are bench tops and cabinets to pick out and install. However, there may be walls to take down, islands to install, and a number of other factors that can affect the cost and timeline as well. So, how long does it take from A to Z? As you'll see, there's a multitude of factors to account for, some of which may be out of your control. At Perth Renovations Co, we're your Perth kitchen renovation pros and have broken down the process into a simple, easy to use guide. Keep reading to see a timeline of the process and how long you can expect your kitchen renovation to take.

First Things First – Close on the Property
Although some homeowners have lived and their homes for a while but are just now ready to update their space and enjoy the kitchen of their dreams, many others begin planning for their kitchen renovation right after signing the papers. However, it's best to wait until you've closed on the property and have the keys in hand. Most homes close within 30-90 days.
Schedule Site Visits and Receive Bids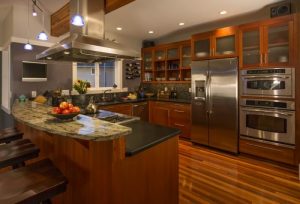 First things first, you need to choose a top-notch kitchen renovation contractor. You could make it easy on yourself and just choose us as we have the experience, integrity, know-how, and a long list of satisfied clients, but if not, some research will be required. After you've narrowed down your list of potential contractors, give them a call to ask some preliminary questions and schedule a site visit. An onsite visit is the only way a contractor will only be able to grasp the scope of your project and provide an accurate estimate and timeline. Typically, it takes one to three weeks to finish meeting with potential contractors and receive bids.
Compare Bids and Choose a Contractor
Now it's time to compare bids and the pros and cons of each contractor. You'll likely have a gut feeling after meeting with a certain contractor, but if they offer a questionable labor only bid while another contractor has an equally impressive resume and lower all-inclusive bid, the costs can add up so you may want to ask some follow up questions and possibly rethink your choice.
Sign Contract and Obtain Permits or Approvals
Once you've chosen a contractor, you'll be given a contract to review describing the work to be done, the costs, and the estimated timeline for project completion. In many cases, homeowners must obtain permits or approvals prior to renovating their kitchens. Even with the best planning, this is when delays or hiccups can occur. Fortunately, our expert renovation contractors know the permit approval process like the back of their hands and can advise you on the best way to achieve the kitchen of your dreams with minimal hassle and less time.
Source the Materials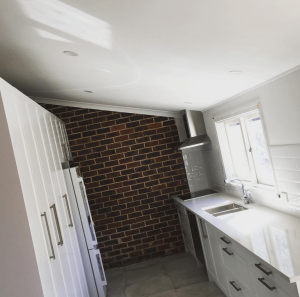 If you're taking the reins on sourcing your kitchen appliances and materials, make sure to place your orders as soon as you finish planning the design. Remember some items or materials can have long lead times. The last thing you want is to let a single sink or hood to hold up the renovation. While you can begin sourcing materials beforehand, the process usually takes one to three weeks.
Reroute the Plumbing and Electrical
After the demolition process, which generally takes one day and begins whenever you give your contractor the green light, it's time to reroute the plumbing and electrical. With everything stripped down to the studs, it's the ideal time to get the new plumbing and wiring in place. This should take no longer than a day or two.
Perform the Installation
Next, it's time to install all of the materials and appliances you or your contractor has sourced. The installation process goes exactly as above with the flooring first and the counters and backsplash last. While several factors will affect the installation timeline, it generally takes two to 10 days to have everything in and finished to perfection.
Clean Up and Inspect the Space
Most contractors will leave the space in "broom swept" condition as stated in the contract. However, a construction cleanup specialist can be hired to ensure your floors and countertops are clean enough to eat off of in just a few hours. Afterwards, you should do a final walkthrough with your contractor to ensure you're satisfied with the finished result. That's all there is to it. Depending on the factors mentioned above, from start to finish you can expect your kitchen renovation to take anywhere from a few weeks to four months to complete.