Homeowners frequently are incredibly enthusiastic at the prospect of a bathroom renovation. Most homeowners will not compromise when creating a dream bath. Because we spend a great deal of time in the bathroom, it is natural to want the tub to be a beautiful haven filled with luxury and every comfort imaginable.

Unfortunately, the thrill of creating a dream bathroom can make even the most reasonable homeowner lose their head a bit. Just the sheer number of on-point options is enough to make homeowners giddy with excitement. In this euphoric state, it is easy to make snap decisions and sweeping changes that can create a design disaster and may end up costing both time and money in the long run.
Take heart; it is possible to have a bathroom renovation that is fundamentally sound and allows you to express yourself. Working with a professional will help you avoid these seven common renovation mistakes while remodelling your bathroom.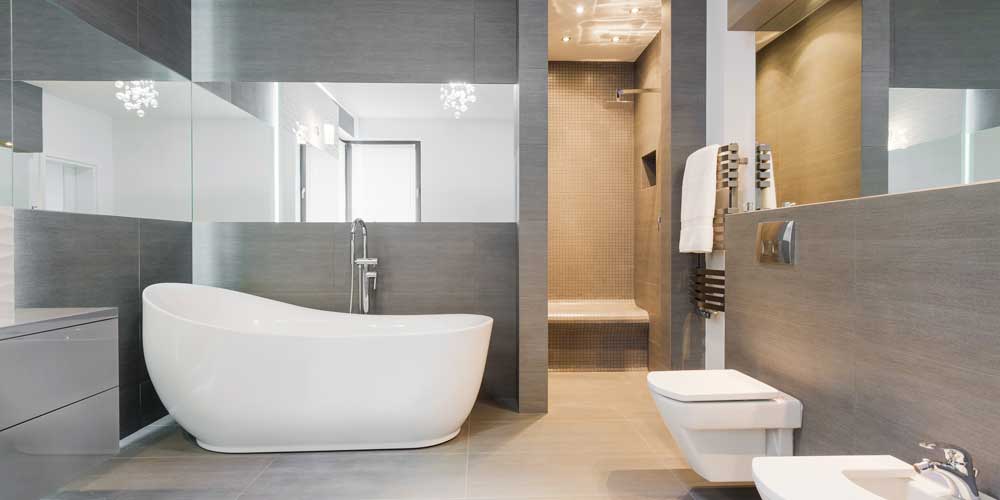 Seven Common Bathroom Renovation Mistakes
1. Overlooking Proper Ventilation
Circulation of air in a bathroom is essential to prevent mildew and mould. If your bathroom has a tiny window or no window, installing ventilation is crucial.
How to Solve the Problem?
Installation of a simple bathroom fan will take care of the air circulation. A simple fan in the bathroom takes care of fogged mirrors too.
If you are doing a significant renovation, ask your contractor about adding windows to your design. Natural light will bring your bathroom to life.
2. Dull and Uninspiring Decor
Often, to appear chic or minimalistic, a homeowner will opt for a bathroom that is primarily white or beige. While neutral fixtures are wise, especially if you plan on selling in the future, the lack of colour and imagination will make your bathroom appear stark instead of stylish.
How to Solve the Problem?
Ask your professional designer about adding colour to your design. An accent wall or contrasting flooring are easy ways to bring life to your bathroom.
Consider accessorising with colour. Shower curtains, hand towels, and small detail items can make a big impact and pull your bath together. They are simple to change for different seasons or should you want a fresh look.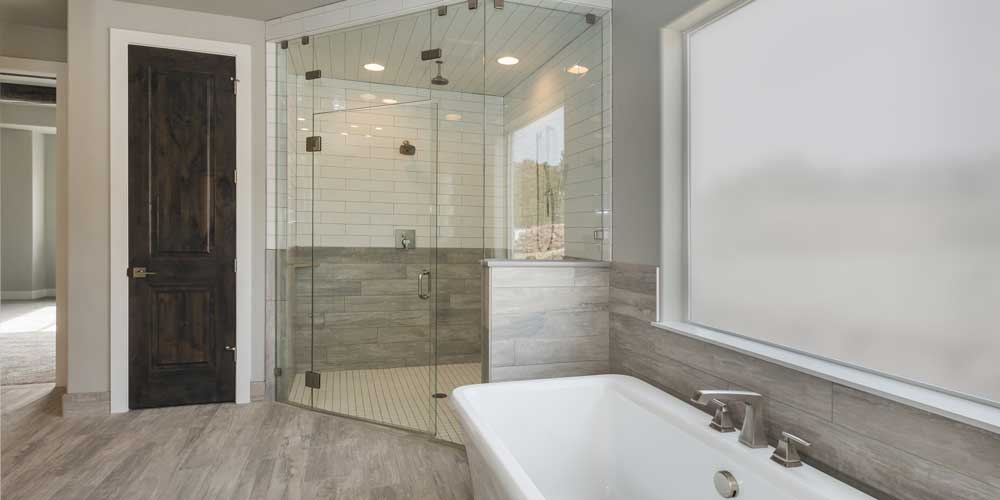 3. Poor Material Choices
A sure fire way to ruin your reno before you really get it started is with using the wrong items for the job. This covers a wide area, but one of the most common material mistakes is installing hardwood flooring in a bathroom. Yes, wood looks warm and is always in style. However, the moisture in the bathroom will eventually warp your beautiful wood.
How to Solve the Problem?
This problem has a simple solution, consult with your renovation specialist and designer. Explain your vision and listen to their suggestions. You can get the look you love while creating a bathroom that will last.
4. Ignoring Functionality
Sometimes in a quest for the bathroom of their dreams, homeowners will forget the basic rule of form following function. Whatever sacrifices you believe are worth the effort or inconvenience now, will lose their appeal after several months of manoeuvring around them.
Be sure to talk to your contractor about your design goals and remember the three keys to functionality:
Safety
Comfort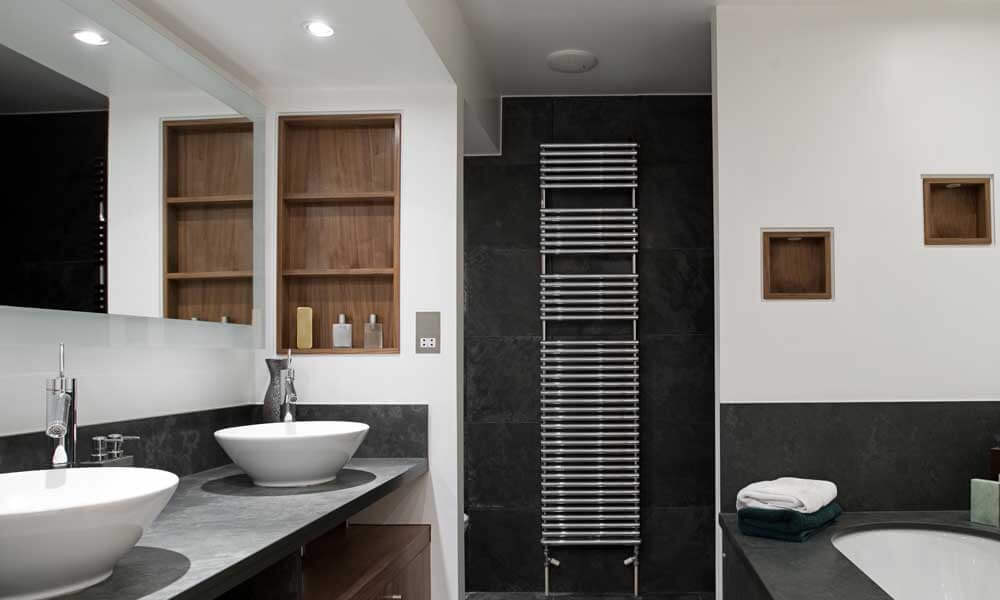 5. Make Environmentally Conscious Choices
There are many bathroom fixtures available that meet the standards of the green community. The purchase prices of these are generally comparable to regular fixtures. A big bonus for the homeowner is that over some time, water saved by the eco-friendly fixtures like low-flow showers, high-efficiency toilets, and automatic shut off faucets will recoup the cost of purchase.
Some particularly environmentally mindful homeowners promote the use of greywater systems. These water reclamation stations reroute water used for bathing, dishwashing, showers and washing machines to other areas such as the toilets. This system is both economical and environmentally responsible.
Aside from ways to save water, there are other ways to incorporate environmentally friendly elements in your bathroom remodel.
Use eco-friendly cleaning products
Purchase paper products made with recycled materials
Have 100 per cent cotton robes, towels, and washcloths on hand for guests and members of your household
Invest in eco-safe health and beauty products to help your skin, hair, and the planet
Use a company that separates and recycles most of your waste material, such as BackyardBins.com.au
6. Make Room for Storage
If there is one common thread behind all types of home renovations, it is the quest for added storage. As our possessions accumulate, our need for a good storage area grows as well. Most homeowners renovating their bathrooms miss out on smart opportunities for handy bathroom storage.
How to Discover Good Spots for Storage
Study your daily routine and pay attention to what you regularly use and where you use it in your bathroom. For example, your bath towels should be convenient and within easy reach rather than stored in a closet in your hallway. Likewise, cosmetics should be near the vanity along with good lighting. Take a minute to notice what works and what causes a struggle. You will want your renovated bathroom to allow you to move quickly through your tasks.
Rely on your team of professionals to help. These are the folks who spend day after day sorting these issues and creating solutions for storage.
7. Make Sure you can see the Light
Many do-it-yourself renovators find themselves somewhat in the dark about lighting techniques. While most everyone agrees that a bathroom needs to have an adequate amount of light, few know how to use lighting for practicality as well as beauty. The technique of layering lighting is an ideal way to use light as a part of your unique décor in the bathroom.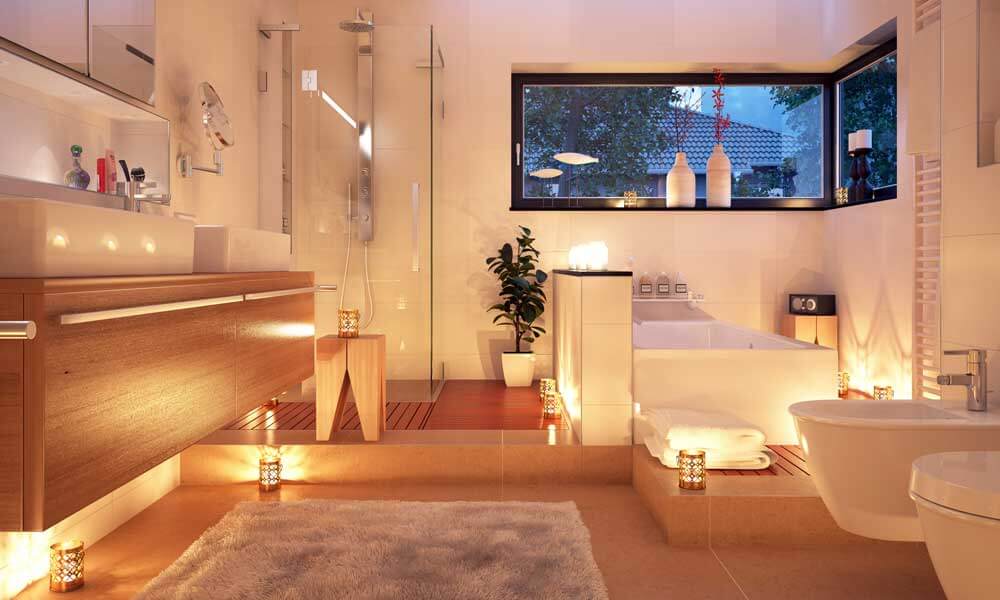 Great Kinds of Lights to Layer
Ambient lighting is the name for the general overhead lighting. Depending on the size of the bathroom, different kinds of ambient can be combined to create a one of a kind look. Using recessed lighting is perfect for this type of lighting.
Accent lighting functions as a way to set the mood in a bathroom as well as boost visibility in darker spaces. You can place accent lighting around a tub or vanity, really anywhere you like. These pieces give you some creative license and the ability to change looks quickly and inexpensively.
Task lighting is the most purposeful type of lighting. For example, light up a magnifying mirror can help with tweezing or applying your makeup.
In Summary
Changing your run-of-the-mill lavatory into a fabulous bathroom takes construction know-how and decorating panache. While the do it yourself trend is widespread, the assistance of trained professionals can save you time, money, and frustration. Your home's bathroom may be a small space, but it holds enormous potential. Working with a team of experienced pros does not need to stifle your creativity, it enhances your ability to bring your unique vision to life.